PRINTS
Gallery quality photo prints
Paper: Hahnemühle: Photo Rag® Baryta
Paper weight: 315 gsm
Duration: 100 years
Hahnemühle Photo Rag® Baryta is a pure cotton paper with an inkjet coating that has been perfectly optimised for the needs of FineArt applications. The natural white paper comes in a pleasant, warm shade of white and contains no optical brighteners. The exquisite surface texture gives the paper a lovely, delicate feel while at the same time lending it an artistic note. In combination with the high-gloss premium inkjet coating, it produces stunning print results with outstanding reproduction of colour and detail, deep blacks and perfect contrasts. The combination of the cotton artist paper and the high-gloss inkjet coating lends FineArt prints a striking character with a beautiful, elegant sheen, without glare. Photo Rag® Baryta is acid- and lignin-free and meets the most exacting requirements in terms of age resistance.
• 315 gsm, 100% cotton
• White, without optical brighteners
• Exquisite surface texture
• High-gloss premium inkjet coating for outstanding print results
• Acid- and lignin-free
• ISO 9706 conform / museum quality for highest age resistance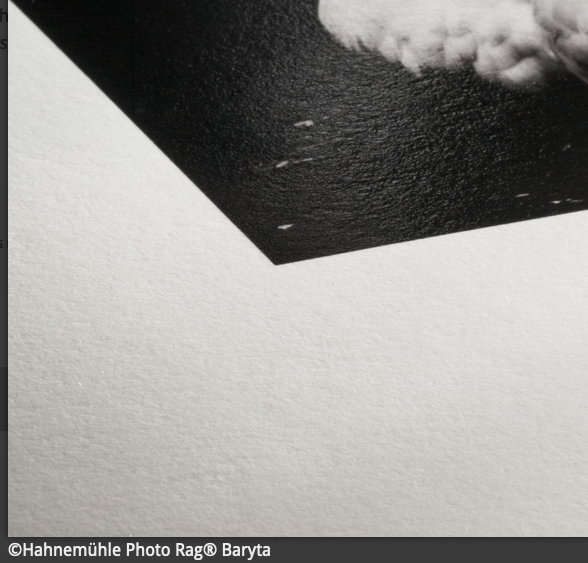 Hahnemühle: Photo Rag® Baryta Paper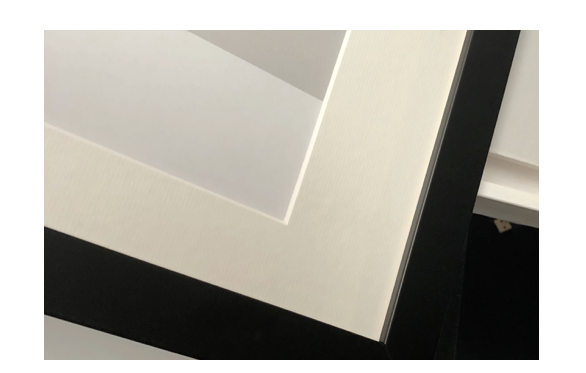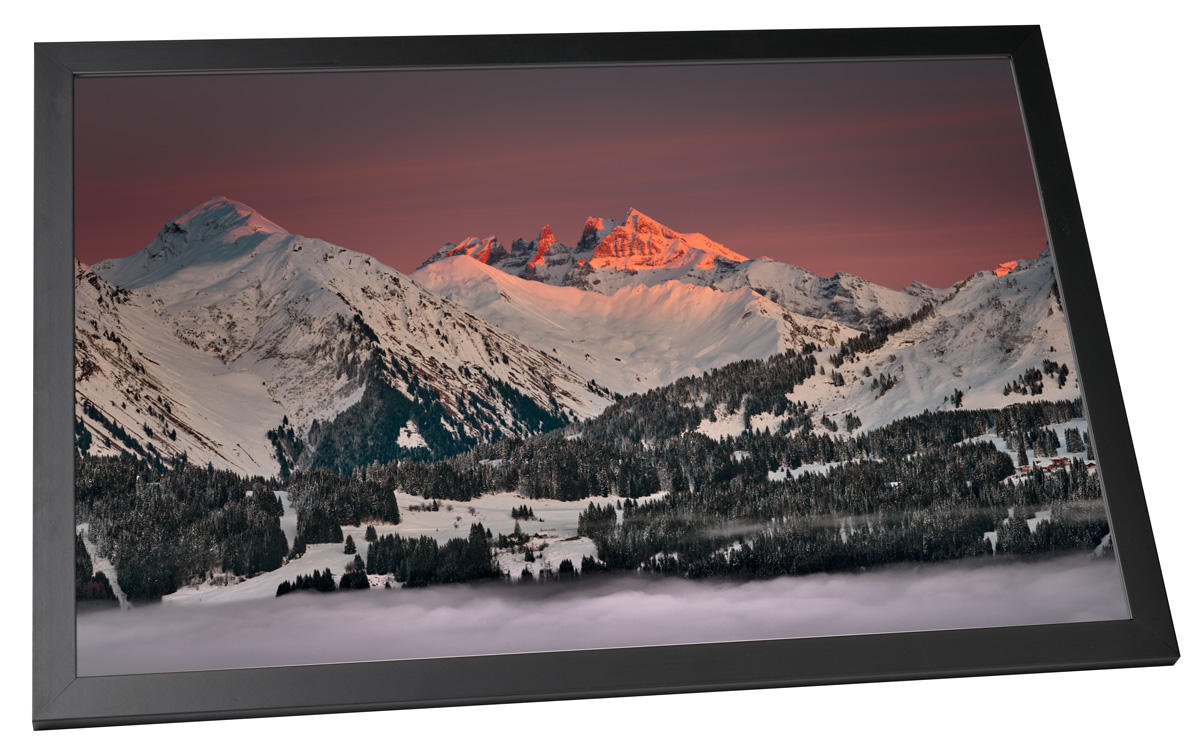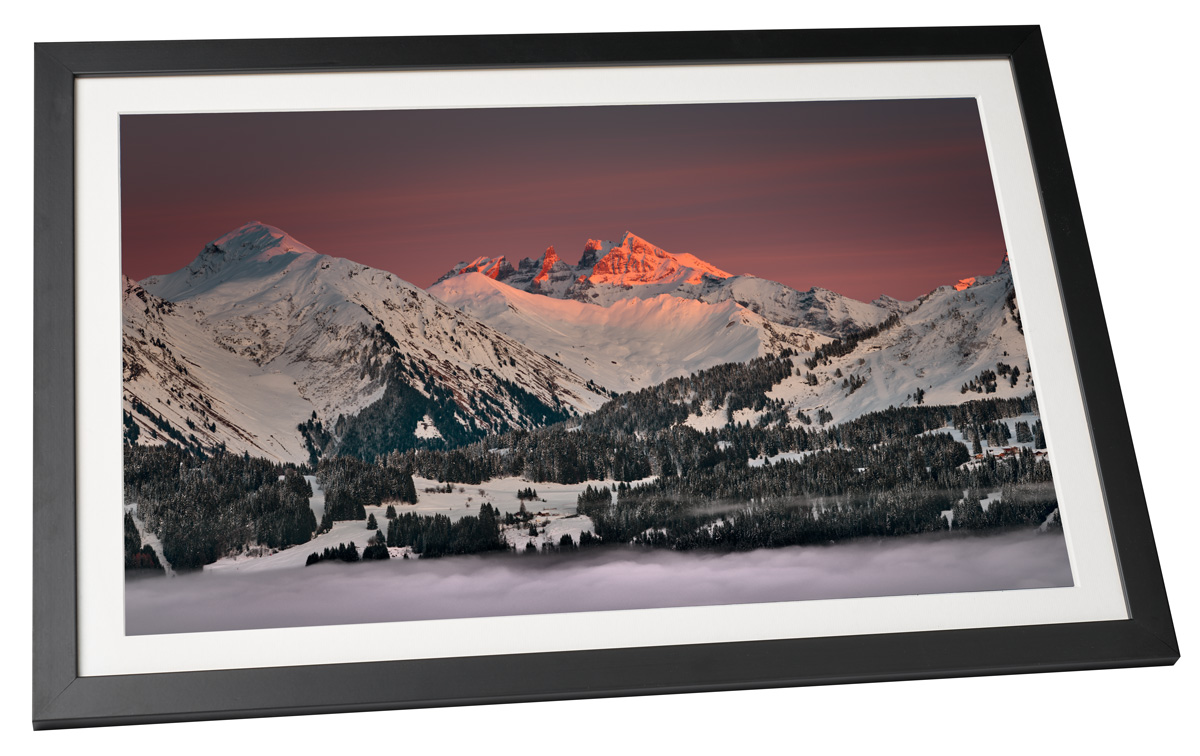 FRAMED PRINTS
Gallery quality photo prints
Paper: Hahnemühle: Photo Rag® Baryta
Paper weight: 315 gsm
Duration: 100 years
Hahnemühle Photo Rag® Baryta is a pure cotton paper with an inkjet coating that has been perfectly optimised for the needs of FineArt applications. The natural white paper comes in a pleasant, warm shade of white and contains no optical brighteners. The exquisite surface texture gives the paper a lovely, delicate feel while at the same time lending it an artistic note. In combination with the high-gloss premium inkjet coating, it produces stunning print results with outstanding reproduction of colour and detail, deep blacks and perfect contrasts. The combination of the cotton artist paper and the high-gloss inkjet coating lends FineArt prints a striking character with a beautiful, elegant sheen, without glare. Photo Rag® Baryta is acid- and lignin-free and meets the most exacting requirements in terms of age resistance.
315 gsm, 100% cotton
White, without optical brighteners
Exquisite surface texture
High-gloss premium inkjet coating for outstanding print results
Acid- and lignin-free
ISO 9706 conform / museum quality for highest age resistance
An oak black frame is a stylish finish to complete your chosen photography.
Please be aware I offer the option of normal glass or anti-reflection glass. The reason I offer normal glass is to allow for a smaller budget although obviously, the placement of the photo in relation to the light source is even more important for this choice of glass.
Frame Mount note: The sizes indicated on the website are relevant to the photo itself, once the 5cm frame mount is added the frame size will increase 10 cm on both length and height. For example, a photo of 60 x 90 cm will have a frame of 70 x 100 cm.
DYE SUBLIMATION ON HD CHROMALUXE ALUMINIUM PANELS
ChromaLuxe Metal Prints are produced using a technology called sublimation. Through dye-sublimation, images are infused into specially coated panels to provide the most durable, longest-lasting prints
By infusing dyes directly into specially coated metal prints, the results are outstandingly clear and vibrant with exceptional detail and resolution.
The panels are lightweight, there is no glass in front of the photo and this reduces eventual reflections. They are easy and safe to display in your home or in public places.
Metal prints can be purchased as stand-alone with an integrated wall mount on the back of the picture or in a metal floater frame where the distance between the picture and the frame creates the impression the image is floating.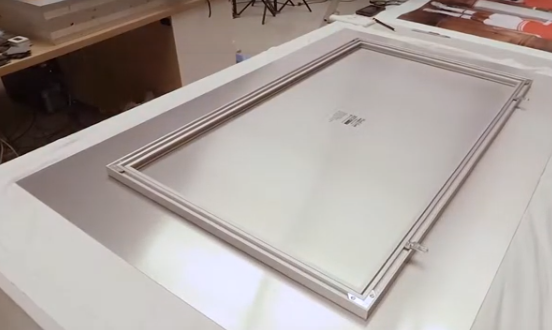 Stand alone with integrated wall mount, back view